Welcome our Newest
Chamber Members
(click name for website)


Planning a
Grand Opening?
Let the SWGC help
with Publicity and our

Grand Opening Checklist
---
The 2017 SWGC Toys for Tots Golf Tournament Raised over $25,000!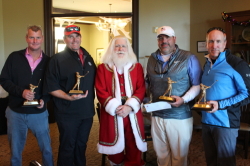 This year 45 golfers and four volunteers participated in the tournament, bringing donations of cash, toys and bicycles for the annual Marines Toys for Tots program that benefits the children of needy families across Metro Atlanta. Thanks go to the sponsors of the tournament, Magnolia Advanced Materials, Cable Depot, Paizanos Italian Restaurant, Dunkin' Donuts, Tuckers Catering, Fox 5, Dixon Golf and of course Jolly Old Santa for their support. The winners of the 4-person scramble were Jay Leedy, Michael Bryant, Chris Hogan and Kip Coombs. more photos...

---
Osteria de Mare celebrates Grand Opening
Peachtree Corners' newest restaurant has just opened at 5075 Peachtree Parkway, just north of the Engles shopping center. The fine dining restaurant serves fresh seafood, prime steaks, and house-made pastas in a relaxed atmosphere. The restaurant is owned by Andrew Hoppen who also owns the Mexican themed Taqueria del Mar in the shopping center next door.

Osteria di Mare serves dinner Tuesdays through Saturdays for diners over the age of 12. Sundays children under the age of 12 are welcome to dine with us.


---
SWGC Community Engagement in the Public schools
At the annual June educators' leadership conference for Gwinnett principals and administrators, Summerour Middle School principal Dorothy Parker-Jarrett and her admin team hosted a session on the importance of engaging community in public schools. Southwest Gwinnett Chamber volunteers Tixie Fowler and Terri Hoye, Associate Pastor of Administration, Missions & Children's Pastor at Norcross First United Methodist Church were invited to participate and were asked to tell the roomful of educators why we, adults without a child in the system, would offer our time, energy and resources to local schools. more...

L to R: Summerour Middle School (SMS) Assistant Principal (AP) Toni Weir,
community volunteers and SWGC Board members Tixie Fowler and Terri Hoye,
SWGC Chairman and SMS Principal Dorothy Parker-Jarrett,
SMS AP's Natalie Looney and Ron Bonny.
---
The Southwest Gwinnett Chamber (SWGC) is a voluntary partnership of business and professional people working together to build a healthy economy and to improve the quality of live in Berkeley Lake, Norcross and Peachtree Corners, Georgia. The mission of the Southwest Gwinnett Chamber of Commerce is to advance the economic, educational and cultural growth in the Tri-cities area of Berkeley Lake, Norcross and Peachtree Corners. The SWGC and its members are focused on providing Support for Existing Business, promoting Economic Redevelopment , being a catalyst for Workforce Development and support for Education and the Cultural and Performing Arts in Southwest Gwinnett County.